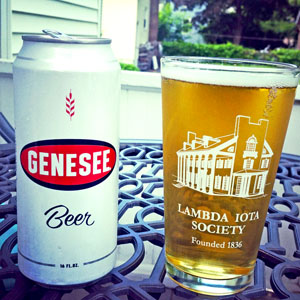 Annual 2017 Fund Drive!
Brothers, grab this chance to fill your cupboard with these sweet Owl House pint glasses! From now until the Annual Meeting (October 7th, 2017), a set of two can be yours with your Society contribution of $39; with a contribution of $52 or more, you'll get four pint glasses.

Genny is not included, but shipping is. Click here and make your contribution today.
---
181st Annual Meeting of the Lambda Iota Society
Saturday, October 7, 2017
Over the last year, UVM has taken significant decisive actions against Greek houses on campus. The BOG is interpreting this as a clear sign that the university intends to cut ties with fraternal/sororal groups in the not-too-distant future. On these grounds, we are preparing a plan to move forward as Lambda Iota Society, with or without a formal undergraduate affiliation with UVM Greek Life. Details of this plan will be discussed at our annual meeting. The schedule is below.
10:00 a.m.–12:30 p.m.
Open House and Tours
12:30 p.m.–1:30 p.m.
Society Luncheon
(Lunch by donation)
1:30 p.m.–2:30 p.m.
Annual Business Meeting
The Annual Business Meeting will include a presentation from the Board of Governors regarding the operating plan for the foreseeable future.
2:30 p.m.–3:30 p.m.
Annual Chapter Room Meeting
3:30 p.m.–5:00 p.m.
Society Social and Cocktail Hour
(Cash bar)
Please note that there are no events scheduled for Friday this year. However, if you're in town and would like to stop by to see the Nest, Owls are always welcome to visit. Just identify yourself as a brother, and please be mindful of Mansfield Hall's alcohol- and tobacco-free policy.
Visit the events page for more info
.
---
About Lambda Iota
Lambda Iota Society, the oldest local student society in the nation, stands as a notable part of Burlington's and UVM's history.
The society was formed in 1836 by a group of 13 students in protest of a campus ban on smoking.
Members were Byron-esque poets and fledgling writers--much like the group in the popular movie The Dead Poets Society.
Listen to This...
The Minervan Summer 2015
Read all the news from the Nest and the BOG by visiting the Publications page (login required).
13 Questions With Spencer Baker
Watch the full Spencer Baker interview (an excerpt was published in the 2014 newsletter).
MEF Textbook Foundation
Grant Program
The Minervan Educational Foundation (MEF) aims to support scholarship and learning activities at the University of Vermont. This program is open to all full-time undergraduate students at the UVM and is designed to assist select students in the purchase of books and other course materials. Download an application.
---
The Owl's Nest Celebrated its Centenary in October 2013!